Find Used Dodge Ram
Pickup Engines For Sale
Save Time
Stop wasting phone calls! Make one enquiry & contact a large network of junk yards.
Compare Prices
Salvage yards contact you with their prices and availability.
Buy Engines Direct
No middle man costs! Buy directly from Ram junk yards.












Find A Used Engine For Any Dodge Ram Pickup Truck!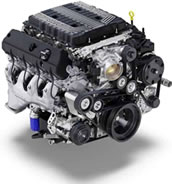 We make it simple for you to locate Ram engines from scrap yards all over the USA, offering you an advantage to quickly fix your Ram ! Simply call us or submit the form and let the vendors to call you you with an estimate. Check out the engine buying guide.

Contact Our Network Of Dodge Ram Auto Wreckers
| Date | Vehicle Model | Year | Engine | Customer City | Comments |
| --- | --- | --- | --- | --- | --- |
| 2020-09-30 00:33:24 +00:00 | Ram 1500 | 2007 | 5.7L Hemi | Oberlin | Need a used engine for my 2007 dodge ram 1500 5.7 Hemi quadcab |
| 2020-09-09 14:45:28 +00:00 | Ram 1500 | 2002 | 3.7 magnum v6 | Auburntown | Need Complete motor with pictures price and warranty |
| 2020-07-09 02:41:49 +00:00 | Durango | 06 | 5.7 | STOCKTON | Looking for a used hemi long block 5.7 for 06 Durango. Not sure if it has mds. |
| 2020-07-01 14:56:35 +00:00 | DURANGO | 2005 | 5,7 | Los Angeles | Hello, I'm searching a complete engine with low mileage please. Thank you |
| 2020-07-01 00:07:14 +00:00 | Ram 1500 | 2001 | 5.9 ltr | St Louis. | 293000 |
| 2020-05-28 22:00:18 +00:00 | Ram 1500 megacab | 2007 | 5.7 L | Watertown | Email or text me quotes please. Thank you |
| 2020-05-03 17:54:04 +00:00 | Ram-50 | 1987 | 2.6 ltr | Castaic | Trying to locate an engine for my friends truck. |
| 2020-04-12 23:45:23 +00:00 | Ram 2500 | 2012 | 6.7 | Alexander City | I am looking for an engine that will fit my 2012 Ram 2500. 6.7L |
Tips For Buying Used Engines
Past Customer Enquiries
| Date | Vehicle Model | Year | Engine | Customer City | Comments |
| --- | --- | --- | --- | --- | --- |
| 2020-07-22 23:31:01 +00:00 | Silverado | 2011 | 5.3 | Oklahoma city | Looking for something high mileage or smoking to rebuild, nothing knocking |
| 2020-06-08 22:39:18 +00:00 | | | | San Antonio | I drive a 07' toyota Rav-4 with a 3.5 v6. I'm looking to replace the engine with the corresponding 400 HP supercharged GRE-FE engine in lotus Evora's |
| 2020-03-19 00:12:37 +00:00 | Bentayga | 2017 | 6.0L W12 F DOHC 48V | Austin | I want a used Bentley Bentayga 2017 used engine |
| 2020-03-13 13:02:36 +00:00 | canyon | 2005 | 3.5l | tulsa | looking for used engine with the 2 cam sensor head. I will be in and out f cell service i would apperciate email quotes |
| 2020-02-17 13:40:54 +00:00 | 560 SL | 1988 | V8 | Katy | Need complete running engine. Original timing chain skipped and broke both cam towers. Assuming the lower half is good |
| 2019-10-29 19:20:20 +00:00 | | | 1.2 | | |
About Dodge Ram Pickup
The Ram Pickup (named until 2009 as Dodge Ram ), is a pickup truck produced by the Italian – American manufacturer FCA US, first for its Dodge brand and then for Ram Trucks, a brand formed in 2009 from just this same model. It is a full-size Pickup, launched in 1981 and developed to replace the Dodge D Series as a representative model of the commercial division of the Dodge brand.
The history of the Ram brand began in 1981 with the launch of the first generation of Dodge Ram trucks that replaced the D Series and which in turn formed the line of light vehicles for the Dodge business division. This truck kept its name as Dodge until 2009 , when in a policy of trying to give its own identity to the commercial vehicle division, Chrysler created the Ram Trucks brand , based on this truck that from that year on became known as like the Ram Pickup line. At the same time, the creation of a line of trucks based on the ex-Dodge Ram was arranged, which came to be identified by the type of maximum load allowed, being known as Ram 1500, Ram 2500 and Ram 3500. Its main rivals market are the Chevrolet Silverado and Ford F-Series . Currently, the Ram line constitutes the "full-size" segment of Ram Trucks.
On the other hand, the design and development of the new Ram Pickup, gave rise to the development of new heavy commercial vehicles that bear the name of Ram Chassis Cab, which consist of versions of the Ram projected on truck frames and with a consistent body only. in a control cabin, with the cargo bay uncovered to adapt and / or use different types of cargo modules (fixed vans, refrigerated boxes, semi-trailers, etc.). These versions of Ram, in turn, also receive classifications related to the type of maximum load allowed, being known as Ram 4500 and Ram 5500.
The current Ram Pickup line corresponds chronologically to the fourth generation of the ex-Dodge Ram, if the production time of both is included, taking the year 1981 as the start date of production. After the creation of Ram Trucks , the entire line of the third generation Dodge Ram (2001-2008) was already replaced with the name Ram Pickup.
First Generation (1981-1993)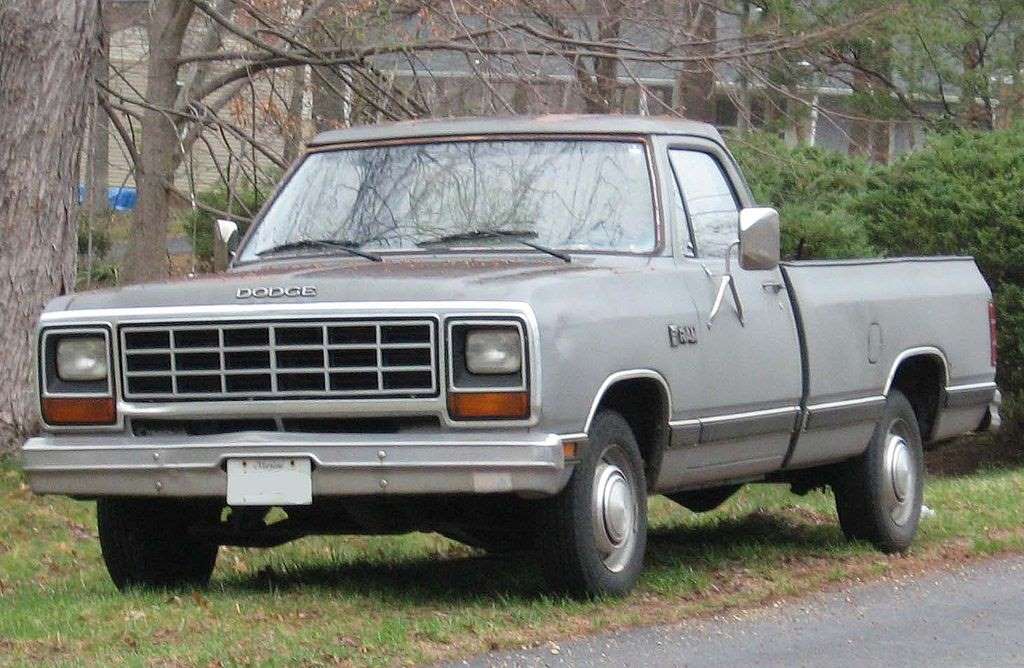 The Dodge Ram replaced the D Series in 1981, but retained the model codes of that predecessor. The "D" stood for the rear-wheel drive variant and the "W" stood for those with four-wheel drive . After this letter followed a number that indicated the carrying capacity. There were the "150", the "250" and the "350" which indicated a load capacity of half, three quarters and one (short) ton (454, 680 and 907 kg) respectively. In terms of bodywork, different variants were available. There were the Standard , the Extended (Club) Cab , and the Crew Cab cabs that could be combined with a 2 to 2 body,style. There was also a choice of four trim levels. From basic to luxury model, these were the Custom , Custom SE , Royal and Royal SE . Under the hood, Dodge used the engines that had been in the catalog for years. These went from a 3.7-liter six-in- line from 95 hp to a 5.9-liter V8 from 230 hp.
In 1982, the Dodge Ram D150 Miser was also released, aimed at buyers of economical cars. That Miser got the 6-in-line coupled to the manual four- speed gearbox as standard . From 1983 the model also came on the market with four-wheel drive. That year, the Extended Club Cab was dropped, followed in 1984 by the Miser, who took the place of the D and W100 that had the same drive. A face lift brought a new radiator grille in 1986 and the classically lined Utiline and Crew Cab variant were dropped. In 1988, the 5.2 liter V8 was equipped with fuel injection which enhanced the performance of that engine. Still the Royal and Royal SElevels that year replaced by the luxurious LE.
1989 was marked by the introduction of new and improved engines. The old 3.7 liter I6 was replaced by a new 3.9 liter V6. Also, the 5.9 liter V8 fuel injection with 20 hp more as a result. Also new was the powerful 5.9 liter 6-in-line turbo diesel from Cummins . All Dodge Ram versions also received standard Anti-lock braking system . In 1990, more Rams with the Cummins engine were built due to its success. Also, the entry-level model, the 100, was dropped for the lower market segment on the new Dodge Dakotato leave. A facelift followed in 1991 which introduced the now distinctive cross-shaped grille and also redesigned the rear. For 1992 the engine pallet was again overhauled, resulting in a strong increase in power. Finally, 1993 was the last year of this generation. With an annual sales figure of approximately 100,000 units, the Dodge Ram was much weaker than competitors such as the Chevrolet C / K and the Ford F-Series . This was partly due to the outdated design of both the exterior and interior. The latter had remained practically unchanged from start to finish.
List Of 1st Generation Pickup Engines
Cubic capacity (L)

Cylinders

horsepower

kW

Nm

Years

3.7

I6

152

71

!

1981-1987

3.9

V6

125

93

264

1989-1991

5.2

V8

125

104

339

1981-1987

5.2

V8

140

104

353

1988-1991

5.2

Magnum

 

V8

235

172

190

1992-1993

5.9

V8

170

127

366

1981-1988

5.9

V8

190

142

190

1989-1992

5.9

V8 gas

160

160

!

1989-1993

5.9

Magnum

 

V8

230

172

454

1993
Second Generation (1994-2001 / 2)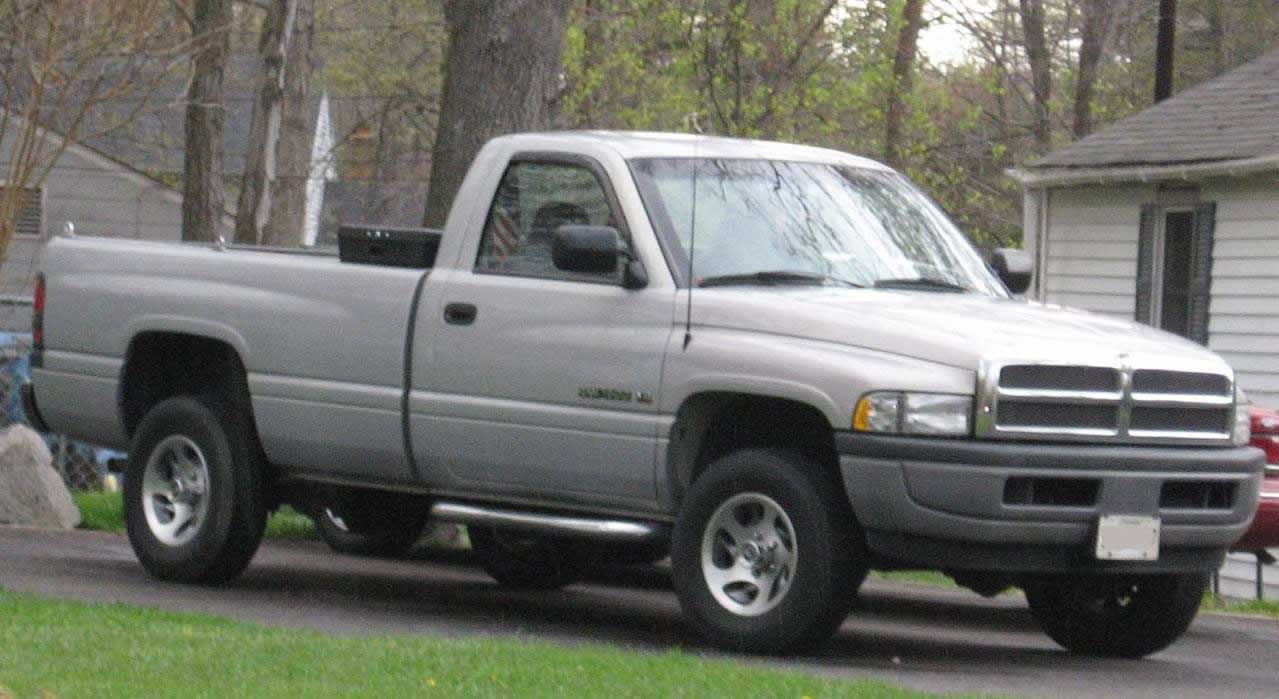 The all-new Dodge Ram, introduced in 1994, had been the result of intensive market research. [source!] That study found that buyers of large pickups went for a strong and powerful appearance. That is why Dodge signed a unique recognizable body with a large wide grille. There was only the Standard cab with the same three carrying capacities as before, which were now typed with "1500", "2500" and "3500". In terms of equipment, there were now the Work special , LT , ST and Laramie SLT , again from basic to luxury model. The engines were taken from the first generation.airbag and ABS was optional on the 1500 and 2500.
In 1995, the Club Cab version of the Ram appeared again, which was only available in the deluxe ST or Laramie SLT version. That year, a variant of the 5.2 liter V8 that ran on natural gas and delivered 200 hp debuted , but despite the enormous power of 542 Nm, it received little acclaim. In 1996, the Ram Indy 500 Special Edition appeared as a derivative of the Ram that served as a safety car that year at the Indianapolis 500 races. 1998 saw the introduction of the Quad Cab whose rear doors were narrower and opened backwards. In 2000, a 4×4 package appeared that tuned the Ram 1500 even better on the terrain. The steering, braking andsuspension systems improved for all Rams with better steering and handling as a result. Finally, there was the SRT + option package that added even more luxury such as leather, CD, etc.
This second generation of the Dodge Ram had become a commercial success. From 1993 to 1994, sales increased in one fell swoop from 100,000 to 240,000 units, and further to 280,000 in 1995 and nearly 400,000 in 1996. The peak was 1999 with just over 400,000 units sold. After that, sales fell again after competitors Ford and General Motors introduced the latest generation of their models. By 2001, sales of the Dodge Ram were below those of competing Ford and Chevrolet models. After the third generation Ram was launched in 2002, the 2500 and 3500 of the second generation remained in production for a year longer. That delay was partly due to the 5.7 liter Hemi engine that was not yet ready.
List Of 2nd Generation Pickup Engines
Third Generation (2002-2008)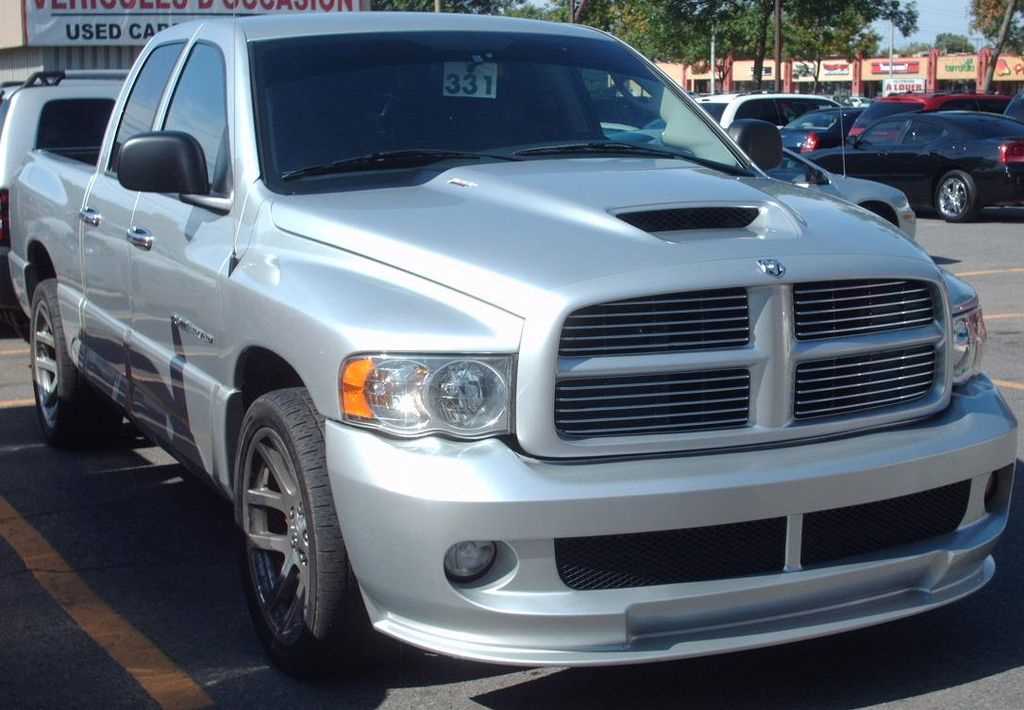 The third Dodge Ram 1500 appeared in 2002 and was completely renewed with a new frame, suspension, drives, body and interior. The grille had been enlarged and special editions were released to spark interest as the competition took over the Ram's unique look. There were two cabs, Regular and Quad Cab , and still the two original body lengths. In the Quad Cab, the body was shortened by a little less than 8 cm to gain passenger space. Also, the new Ram appeared in three levels, ST , SLT and SLT Plus, with an optional Sport package at the top two.
Dodge Ram 1500 Rumble Bee from 2004-5.
Two new engines were to be found underneath: a 3.7-liter V6 rated 215 hp and a 4.7-liter V8 rated 235 hp. That V6 came standard with the rear-wheel drive Regular Cab while the V8 was standard for the other models. In 2003 finally appeared the 2500 and 3500 versions with the new 5.7 liter Hemi V8 engine of 345 hp. As late as 2003, Dodge announced a hybrid version of the Ram, but due to technical issues, it barely got off the ground. Instead, the brand announced the joint development of a hybrid with GM and BMW.  In 2003, the Ram received a face lift with the introduction of the Mega Cab , the cabin of which is half a meter longer. The Hemi was also replaced by a new Hemi with Chryslersvariable displacement system Multi-Displacement System (MDS). Two model types were launched for model year 2008: the heavy "4500" and "5500".
The third Dodge Ram did well again in showrooms. 400,000 units were sold in 2002, another 450,000 in 2003. By comparison, Ford and General Motors sold between 850 and 900,000 pick-ups per year during that period. But in the meantime, the tide has turned for them as well, with Japanese pick-ups such as the Nissan Titan and the Toyota Tundra also preying on market share. The sales figures of Dodge, Ford and GM are declining. Meanwhile, it has already been announced that the next generation of the Dodge Ram will appear in model year 2009. Chrysler is also planning a Ram-based SUV.
List Of 3rd Generation Pickup Engines
Cubic capacity (L)

Cylinders

horsepower

kW

Nm

Years

3.7

PowerTech

 

V6

215

160

319

2002-2005

4.7

Magnum

 

V8

235

175

407

2002-2005

4.7

V8 gas

250-305

200

434-515

2002-2005

5.7

Hemi

 

V8

345

257

508

2003-2005

5.9

Magnum

 

V8

245

183

345

2002

8.3

Viper

 

V10

500-510

373

712-725

2004-2006

5.9-6.7

Cummins T diesel

305-385

224-287

1152

2002-2008
Browse Salvage Yards By State